Please click the gray tab at the top for our full menu.

Please inform server if any members of your party have food allergies.
Our authentic, aromatic Thai cuisine uses only high quality ingredients to produce a wonderful eating experience.
​Basil Gaigrob. (Delicious!.. Delicious!..) $13.95
​Crispy seasoned chicken stir fried in delicious medium spicy Krapow sauce along, with carrots, sliced sting beans, onions, fresh basil leaves, red and green bell peppers served with jasmine rice.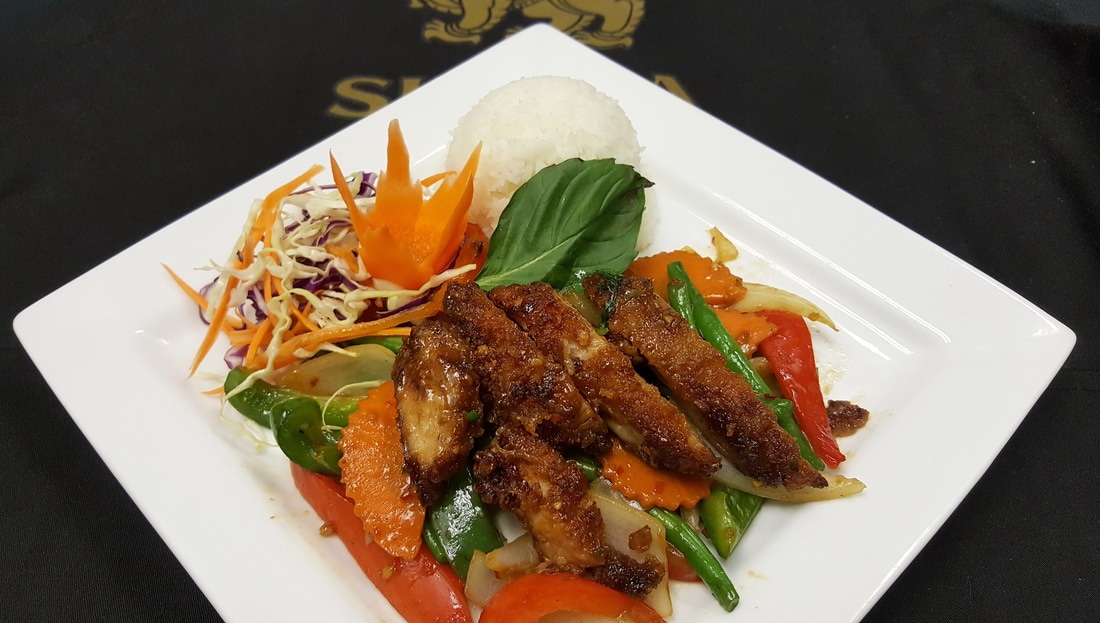 Specialties

​With choice of:
Vegie or Tofu or Chicken or Pork 12.95
Shrimp or Beef 14.95
Calamari 15.95
Scallop or Mixed seafood 17.95
​Steamed Rice is Recommended with all Entrée Dishes.

Basil **
Sautéed choice of meats, onions, basil leaves, green beans, carrots, mushrooms, bell peppers with Thai chili in garlic sauce.

​

---

​Kra Pow ** $13.95 Yummy! Yummy!Minced Chicken stir fried in delicious medium spicy Krapow sauce, onions, basil leaves, green beans, carrots, mushrooms, bell peppers with Thai chili and garlic


---

​Peanut sauce (Chicken $12.95 / Beef $14.95)Sautéed Sautéed choice of meats with light curry powder served on a bed of steamed mixed vegies then pour with a delicious peanut sauce.
​

---

Ginger Dish
Sautéed choice of meats with shredded gingers, mushrooms, onions, carrots, and scallions in a soy beans sauce & garlic sauce.



---

​ Rama Garden (Chicken $13.95 / Beef $14.95)Steamed choice of meats and steamed fresh mixed vegetables served with delicious house peanut sauce


---

​Sweet & Sour $14.95Sautéed Shrimps & Chickens in a special house sweet and sour sauce with pineapples, cucumbers, tomatoes, onions, bell peppers and scallions


---

​Hot Beef Mixed ** $14.95Sautéed tender beefs with assorted vegetables in a delicious southern style country sauce


---

​Lemongrass Chicken $13.95Sautéed chicken with minced lemongrass, onions, garlics and ginger, with bell peppers, scallions, mushrooms, baby corns, bamboo shoots, carrots and basil leaves


---

​Cashew Nuts* $13.95Sautéed Chicken in garlic sauce roasted cashews, pineapples, onions, red peppers, mushrooms, snow peas, carrots & scallions..​


---

​Bangkok String bean*Sautéed choice of meats in medium spicy sauce, string beans,
snow peas, bell peppers, cashew nuts and crushed peanuts


---

​
Broccoli DishSautéed choice of meats in a delicious brown sauce along with shredded gingers and carrots


---

​Spicy Tofu**Stir-fired tofu in medium spicy sauce, baby corn, mushrooms, snow peas, sliced bamboo shoot, cashew nuts and chili and garlic sauce


---

​Vegetables RainbowSautéed choice of meats in garlic sauce & Brown sauce, broccolis, green beans, carrots, bells, snow peas and mushrooms


---


Snow peas in a brown sauce $14.95Sautéed Chickens & Shrimps in brown sauce & garlic sauce along with snow peas, mushrooms and carrots.
​


​ Phenomenal Dishes
"a flavor worth trying"
Steamed Rice is Recommended with all Entrée Dishes.



​Basil Duck ** "A Must" $19.95
"An incredibly delicious dish in the house" The aroma of this dish is phenomenal. The recipe features Roasted Crispy Duck stir-fried with a combine chili paste & special Thai House sauce, along with fried garlic, onion, bell peppers, green beans, carrots and topping with crispy basil leaves. "Absolutely Delicious"


---

Red Curry Duck ** $19.95
This medium spicy Red Curry is very aromatic and fabulous.
An important feature is Crispy Duck cherry tomatoes, bell pepper and pineapple chunks in a special homemade red curry.

---

Crispy Duck (Dry & Crispy) $ 19.95
Boneless roasted Duck topped with shredded gingers, mushrooms, pineapples, onions, bell peppers, tomatoes & scallions in a house delicious house tamarind sauce


---

Volcano Shrimp ** $18.95
The recipe features Grilled Shrimps topped with delicious spicy garlic sauce and tamarind sauce, served on a hot metal plate with steamed broccolis, carrots and cauliflowers. "Great Flavor"


---

​Avocado Curry ** $18.95
"Terrific blended of textures and flavor" The recipe features Scallops and Shrimps simmered in our special medium spicy curry sauce along with Avocados, carrots, bell peppers and basil leaves.


---

Pad Paradise * $16.95
Sautéed with combination of Shrimps, Beefs and Chickens along with cashew nuts, carrots, pineapples, bell peppers, gingers and basil leaves in Thai Pik-Pow sauce


---

Salmon Garlic $18.95
The recipe features Grilled Salmon steak sautéed in special garlic sauce on a bed of steamed broccolis and topped with crispy basil leaves


---

Shrimp Crispy Basil ** $18.95
"Perfectly & Tasty" Sautéed Shrimps in Pik Pow sauce, string beans, bell peppers and cashew nuts, topped with crispy basil leaves


---

​Tamarind Duck $19.95
Boneless roasted Duck topped with shredded gingers, mushrooms, pineapples, onions, bell peppers, tomatoes & scallions in a house delicious house tamarind sauce.


---

Seafood Choo Chee ** $18.95 (Medium)
Chunks of Scallops, Calamari, Mussels and Shrimps in Thai Choo-Chee curry paste, snow peas, and red bell peppers.

---


Salmon Choo-Chee ** $18.95 (Medium)
The recipe features Grilled Salmon Steak in Thai Choo-Chee curry paste topped with bell peppers, snow peas, fresh basils and Choo Chee curry sauce.



---



​Side Order

​Peanut Sauce 1.50
Sweet & Sour Sauce 1.00 ​
Jasmin Rice 1.50 ​
Brown Rice 2.00
Sticky Rice 2.95 ​
Steamed Noodles 3.95
Steamed mixed vegetables 5.95