Our authentic, aromatic Thai cuisine uses only high quality ingredients to produce a wonderful eating experience.
If you have any allergies. We are happy to accommodate any dietary restrictions.
​New Specials.
​Basil Gaikrob. (Medium spicy) $13.95
​Medium spicy Crispy seasoned chicken stir fried in delicious krapow sauce along, with carrots, sliced sting beans, onions, fresh basil leaves, red and green bell peppers served with jasmine rice.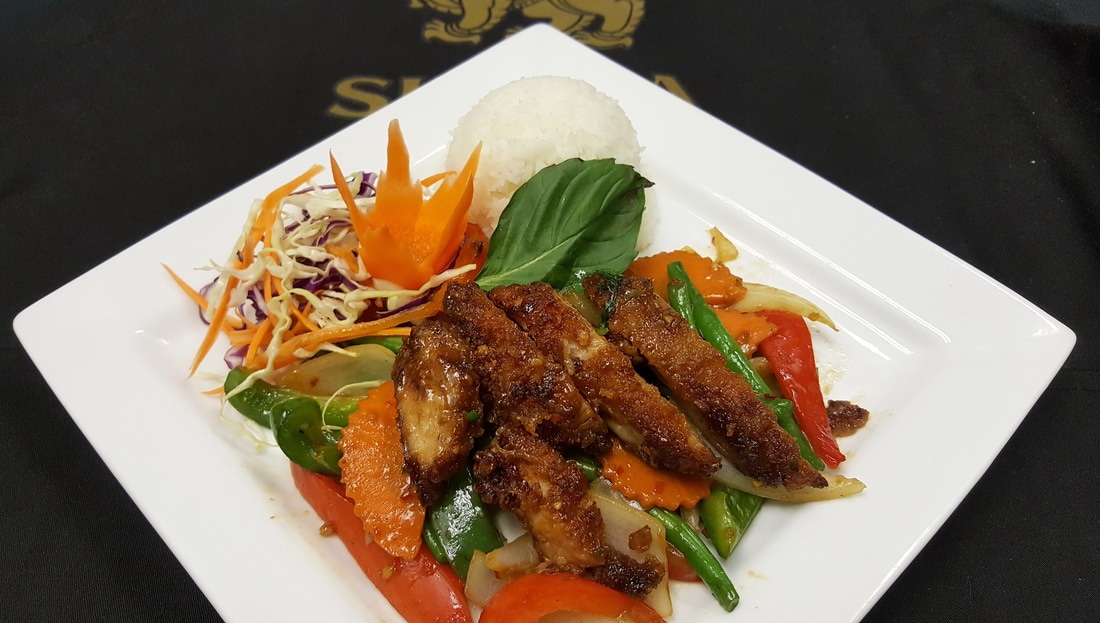 --------------------------------------------------------------------------------------------------------------------------------------------------------------------------------------------------------------
House Specialties Menu

​With choice of:
Vegie or Tofu or Chicken or Pork 12.95
Shrimp or Beef 14.95
Calamari 15.95
Scallop or Mixed seafood 17.95
​Steamed Rice is Recommended with all Entrée Dishes.

Basil **
Sliced meat stir fried with onions, basil leaves, green beans, carrots, mushrooms, bell peppers with Thai chili and garlic sauce.
​

---

​Kra Pow ** $13.95
Minced Chicken stir fried with onions, basil leaves, green beans, carrots, mushrooms, bell peppers with Thai chili and garlic.

---

​Peanut sauce (Chicken $12.95 / Beef $14.95)
Stir-fried marinated (Chick or Beef) with light curry powder and peanut sauce, served on a bed of steamed mixed vegetables.

---

Ginger Dish
Your choice of meat, sautéed with shredded gingers, mushrooms, onions, carrots, and scallions in a soy beans & garlic sauce.


---

​ Rama Garden (Chicken $13.95 / Beef $14.95)
Steamed with your choice of meat and fresh vegetables.
Topped with a homemade peanut sauce.

---

​Sweet & Sour $14.95
Stir-fired Chickens & Shrimps in sweet and sour sauce with pineapples, cucumbers, tomatoes, onions, bell peppers and scallions.

---

​Hot Beef Mixed ** $14.95
Sautéed tender beefs with assorted vegetables in a delicious southern style country sauce.

---

​Lemongrass Chicken $13.95
Sautéed chicken margined in minced lemongrass, onions, garlics and ginger, with bell peppers, scallions, carrots, mushrooms, baby corns, bamboo shoots, and basil leaves.

---

​Cashew Nuts* $13.95
Sautéed Chicken with roasted cashews, pineapples, onions,
red peppers, mushrooms, snow peas and scallions.​

---

​Bangkok String bean*
Your choice of meat, sautéed with spicy sauce, string beans,
snow peas, bell peppers, cashew nuts and crushed peanuts.

---

​
Broccoli Dish
Your choice of meat, stir-fried in a brown sauce with shredded gingers and carrots.

---

​Spicy Tofu**
Stir-fired tofu, baby corns, mushrooms, snow peas, sliced
bamboo shoots, cashew nuts and chili and garlic sauce.

---

​Vegetables Rainbow
Stir-fried garlic sauce with broccolis, green beans, carrots, bells,
snow peas and mushrooms.

---


Snow peas in a brown sauce $14.95
Stir-fired Chickens and Shrimps, snow peas, mushrooms and carrots, in a brown sauce.​

Popular Special Menu
"a flavor worth trying"
Steamed Rice is Recommended with all Entrée Dishes.
​

​Basil Duck ** "A Must" $19.95
The aroma of this dish is fantastic and the flavor is fabulous.
Roasted Crispy Duck stir-fried with a combine of Garlic & Brown sauce, along with fried garlic, onion, chili paste, bell peppers, green beans, carrots and topping with crispy basil leaves.

---

Red Curry Duck ** $19.95
This medium spicy Red Curry is very aromatic and fabulous.
An important feature is Crispy Duck cherry tomatoes, bell pepper and pineapple chunks in a special homemade red curry.

---

Crispy Duck (Dry & Crispy) $ 19.95
Crispy boneless Duck and crispy noodles with steamed broccoli, steamed broccolis, carrots and cauliflower, served with a garlic and sweet chilies sauce.

---

Volcano Shrimp ** $18.95
The recipe features Grilled Shrimps topped with garlic chilies and tamarind sauce, served on a hot plate with steamed broccolis, carrots and cauliflowers. here to edit.

---

​Avocado Curry ** $18.95
The recipe features Scallops and Shrimps simmered in our special medium spicy curry sauce along with Avocados, carrots, bell peppers and basil leaves.

---

Pad Paradise * $16.95
Sautéed with Shrimps, Chickens and Beefs, cashew nuts, carrots, pineapples, bell peppers, gingers and basil leaves in Thai Pik-Pow sauce.

---

Salmon Garlic ** $18.95
The recipe features Grilled Salmon Steak sautéed in garlic with white peppers on a bed of steamed broccolis and topped with crispy basil leaves.

---

Shrimp Crispy Basil ** $18.95
Sautéed Shrimps in Pik Pow sauce, string beans, bell peppers
and cashew nuts, topped with crispy basil leaves

---

​Tamarind Duck ** $19.95
Boneless Roasted Duck topped with shredded gingers, mushrooms, pineapples, onions, bell peppers, tomatoes & scallions in tamarind sauce.



---

Seafood Choo Chee ** $18.95
Chunks of Fish fillets, Scallops, Calamari, Mussels and Shrimps in Thai Choo-Chee curry paste, snow peas, and red bell peppers.

---


Salmon Choo-Chee ** $18.95
The recipe features Grilled Salmon Steak topped with bell peppers, snow peas, fresh basils and Choo Chee curry sauce.


---



​Side Order

​Peanut Sauce 1.50
Sweet & Sour Sauce 1.00
Cucumber salad 3.50 ​
Jasmin Rice 1.50 ​
Brown Rice 2.00
Sticky Rice 2.50 ​
Steamed Noodles 3.50
Steamed mixed vegetables 5.50